Sunday, June 19th, 2011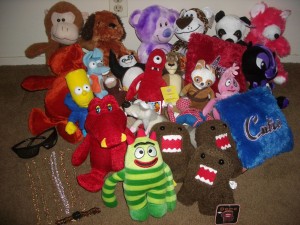 Here's the haul from two rescue missions. Thankfully, I'm not around the evil stuffed animal prisons much. Or I'd be broke. This group is now on its way to Toys For Tots. And we can all breathe a sigh of relief that these precious stuffed animals' lives have been saved.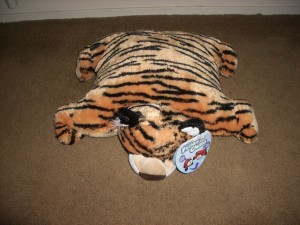 This poor tiger was so difficult to rescue. They'd locked him in a giant claw machine that cost two bucks a game to play. And his shape made him nearly impossible to get all the way to the door. Thankfully, I cleverly used the 3-games-for-5-bucks option and was finally able to save this poor fellow. Picked him up nine times, finally managed to extricate him on the final try. He is now on his way to live with my niece.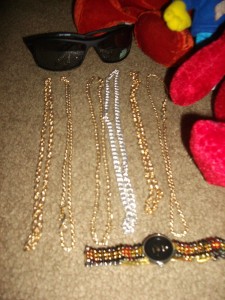 This was pure self-indulgence on my part. Well, actually, I needed the watch. But kept picking up the "gold and silver" (strange toxic metal from China) necklaces. The sunglasses came up with a necklace. Two for one!
And I wore the watch for the entire vacation. Sweet!