Saturday, March 30th, 2013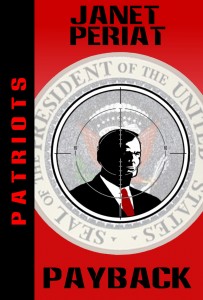 My latest installment of the Patriot Series, Payback,  is available now. Click here to buy! In just a short week from now, Payback will be available on Amazon.  Also the ebooks will be released soon and will be available at Amazon, Barnes and Noble and the iTunes store. Stay tuned for updates on this fun, action-packed thriller! My critique partners think this is my best work to date. I'd love to hear from my readers what they think.
Email me for a $3 discount code for Payback! Use my Contact page.
Yay!!! A new Patriots book!!!
If you haven't already, please like my Facebook page called:  Janet Periat's Fan Page (Official, Authorized and Fully Licensed)
Hope you're all having a great one today!
-Janet